Are you conducting safe property inspections during the COVID-19 crisis? The state of California has implemented new safe and healthy real estate procedures which apply to property occupants, real estate employees, contractors, and inspectors.
At Griswold Law, we stay at the forefront of real estate and business issues that impact the people of California. We'd like to share what you need to know about safety inspections during the pandemic.
New Protocols for Safety Inspections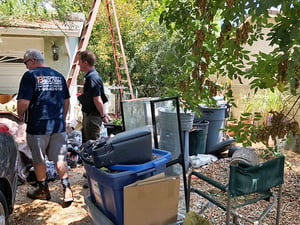 During this time, you can expect property inspections to have a more stringent level of restrictions and protocols. The movement of the property's occupants should be handled carefully and the inspection must follow a clear sequence of procedures.
To set the stage for a successful inspection, establish a written COVID-19 prevention plan for your company. Share it with all employees and tenants/occupants, and require some type of confirmation that they have reviewed the plan.
The state of California has issued physical distancing guidelines for shown properties. If possible, the best solution for showing/inspecting properties is to arrange a virtual interaction. When this isn't possible, follow these safe entry protocols:
All occupants must exit the property.
Occupants should stand socially-distanced outside the property at the

maximum distance possible

and at a minimum, the

CDC standard of 6 feet

.
Allow inspectors and/or contractors inside only when all occupants are confirmed to have exited the property.
We require all participants to wear masks and gloves.
All participants should engage in frequent hand-washing and disinfection of shared items/surfaces.
Participation is limited to essential groups of inspectors/contractors.
Workers should be trained on these essential elements of the COVID-19 prevention plan. If any exposure is suspected at any time during the process, it's crucial to have established processes to address cleaning and interaction with public health authorities.
Cleaning and Sanitizing Procedures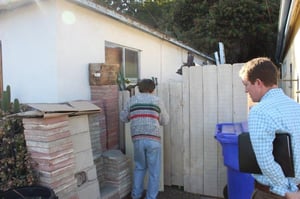 Whether the property inspection takes place in-person or virtually using remote communication, either method requires someone to enter the occupant's location. This means disinfection is a concern.
California real estate safety guidelines include these cleaning and disinfection tips for occupied properties:
Introduce as much fresh air as possible by opening windows, leaving doors ajar, and operating ventilation systems.
Have hand sanitizer and disinfectant wipes available.
Instruct workers to use wipes to wipe down any shared surfaces and items that will move between people during the process.
Require all visitors to wash their hands with soap and water or use hand sanitizer before entering a property.
Provide adequate time for occupants and workers to engage in these extra cleaning procedures.
Shown properties should be thoroughly disinfected before and after each event where someone makes entry into the property. Focus cleaning efforts on the following commonly-used surfaces: counters, doorknobs, cabinet handles, key lock boxes, keypads, toilets, sinks, light switches, and other shared surfaces.
Clean floors using a HEPA-filter vacuum and not by sweeping, which releases pathogens into the air. Avoid sharing pens and physical paperwork, moving as much of this online as possible.
Conducting Successful Virtual Property Inspections
Griswold Law has successfully conducted property inspections where our team is physically present but the inspector is not. Our representative waits for occupants to exit, then enters the property and conducts the inspection while filming it in real-time.
FaceTime or Zoom can be used to document and share the process. This is especially helpful when a city inspector can't be physically present but still needs to conduct an efficient and thorough compliance/permit inspection remotely.
If you have further questions about the new COVID-19 inspection rules, we're here to help. We appreciate your continued efforts to keep California's residents safe and healthy.
The professionals at Griswold Law, APC work with companies and courts across California regarding issues concerning real estate and businesses. For more information, please contact us at (858) 481-1300 or visit griswoldlawca.com.