The foreclosure crisis that affected the entire nation during the economic downturn in 2007 - 2009 created another crisis – an urban landscape filled with vacant and abandoned properties.
Foreclosure laws in some states mean that vacant and abandoned residential properties sit for years, boards covering their windows, without maintenance or any oversight.
The current economic downturn will result in an uptick in vacant and abandoned commercial properties.
These properties are also often victims of fire, which not only damage these structures, but adjacent homes and commercial buildings. And if someone is squatting undetected in these properties, it can also mean loss of life.
Why Fires Occur in Vacant Properties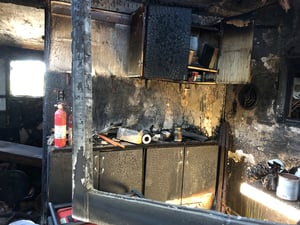 Fires can occur in vacant properties due to a lack of maintenance, faulty wiring, and debris. Homeless people burn candles for light in the winter, and sometimes bring in grills.
Vacant buildings are also a primary target of arsonists, accounting for 25% of all intentionally set building fires. The National Fire Protection Association (NFPA) reports that fires in vacant buildings are more likely to have been set on purpose than other structure fires. The report said that 43% of fires reported in vacant structures in a three-year period were intentionally set. This compares with 10% of structure fires overall.
There were an estimated 25,000 vacant residential building fires reported annually between 2010 and 2012. Of these, 7% were in vacant houses, and resulted in 60 deaths, 225 injuries and $777 million in property loss each year.
These fires in vacant buildings pose a danger to the entire neighborhood, according to the U.S. Fire Administration National Fire Data Center. Of the total number of fires, 53% involved the entire building and another 11% spread beyond the building to adjacent properties.
Common Causes of Fire Risk in Nuisance Properties
A nuisance property isn't just a vacant building. A nuisance involves an unreasonable or unlawful use of property that results in material annoyance, inconvenience, discomfort, or injury to another person or to the public.
These properties are often full of code and other violations that create the conditions that label them a nuisance. Other than the homeless, faulty wiring and arson, there are other things that increase the risk of fires in nuisance properties, including:
Hoarding. A home rented or owned by a hoarder is dangerous for many reasons. And contrary to what you see on television, most hoarders do not get help. They might die or family moves them to a facility, or any number of things can happen. As a result, the home sits abandoned, still full of stuff.
A number of fire departments are experiencing serious fires, injuries, and deaths because of compulsive hoarding behavior, according to the National Fire Protection Association.
This is because pests can chew on wires and damaged wires start fires, piles of debris can create heat and spontaneously combust, and if occupied by the homeless, these houses are full of combustible material that can be lit with a candle used for light.
Lack of building security. Plywood has been the standard material used for boarding vacant and abandoned properties. But, it's pretty ineffective at securing these properties and provides an easy way for vandals and squatters to get in, which makes them very appealing. Some also get turned into drug houses.
Plywood boarding can be easily removed, and for first responders, plywood boarded properties are a safety hazard. Firefighters and rescuers can't see inside the building which places them at serious risk. During a three year period, 4,500 firefighters were injured at vacant building fires annually, says the 2018 NFPA Vacant Building Fires report.
An alternative is polycarbonate clear boarding materials to secure unoccupied properties. It's virtually unbreakable, so it protects the property from intrusion and reduces crime. Plywood, and even steel can be pried off.
Clear boarding is designed to look like glass, so it doesn't reveal that the property is vacant, which makes it less appealing. These products are installed using a compression bolt and interior bracing bar system. You can get out, but no one can get in. And it doesn't offer the cover for illegal activities like plywood, either.

Protect Your Property
Receiver Richardson "Red" Griswold has been appointed by California courts over 100 times across 14 counties to act as a Receiver for disputed and/or distressed real property and businesses' assets.
We have extensive experience taking control of troubled real estate assets, including houses, apartments, motels and failed developments, with a focus on hoarding, nuisance/drug activity, slum motels/apartments, illegal conversions and abandoned properties
For more information, please contact Griswold Law, APC by phone at (858) 481-1300 or email rgriswold@griswoldlawca.com.
Sources:
https://ifpmag.mdmpublishing.com/a-solution-for-reducing-vacant-building-fires/
https://www.usfa.fema.gov/data/statistics/
http://mrsc.org/home/explore-topics/legal/regulation/nuisances-regulation-and-abatement/what-is-a-nuisance.aspx#:~:text=A%20nuisance%20involves%20an%20unreasonable,person%20or%20to%20the%20public.
https://www.nfpa.org/Public-Education/Fire-causes-and-risks/Behavioral-risks/Hoarding
https://www.nfpa.org//-/media/Files/News-and-Research/Fire-statistics-and-reports/Building-and-life-safety/osvacantbuildings.pdf