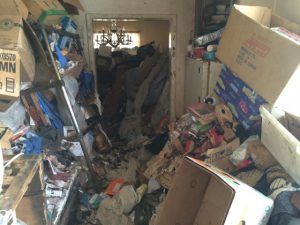 Hoarding is a serious clinical disorder where an individual has obstinate difficulty discarding or parting with belongings. A person with a hoarding disorder experiences distress at the idea of getting rid of their possessions because they have an inherent need to save them. This mentality results in excessive accrual of belongings regardless of actual value. Hoarding behaviors can produce an unsafe environment posing a health and safety risk to the people living in the home. A Court-Appointed Health & Safety Receiver can remedy the effects of extreme hoarding at residential properties. The court can appoint a neutral third-party receiver to take control of the property to remedy the challenging hoarding conditions.
The health hazards associated with hoarding, as well as the emotional/psychological effects hoarding can have on the individual and surrounding community, are sensitive and important issues a receiver tackles. Hoarding produces cramped living conditions where the home may be filled to absolute capacity. Hoarded homes may only have narrow pathways, if any, throughout the house. All surfaces, countertops, and floors are usually stacked with clutter and piled trash. Sometimes the hoarded house is so full of stuff that the property owner resorts to storing items in the garage, yard or other storage sheds outside. These cramped conditions pose a health issue, a safety issue, and a fire hazard not only to the homeowner but to the surrounding community. The home may be inaccessible if belongings are blocking the exit/entryways making access in and out of the property unreachable or limited during emergencies. Large piles of items may hide signs that the house needs maintenance, like heat, water, sewage or refrigeration. If a fire started it would quickly spread if the house was packed with items and/or trash.
A California Health & Safety Code Receiver is temporarily appointed by the court to address the health and safety concerns caused by the hoarding conduct. A Receiver can facilitate the improvement to the home and the hoarding behavior by decluttering the property and connecting the hoarder to mental health treatment providers or other social services. A receiver takes action by removing items from the house and into storage, recycling or throwing away garbage, cleaning the property, and addressing any code violations.
Richardson "Red" Griswold is appointed by California courts to act as a Health & Safety Code Receiver for hoarding properties. For more information, please contact Griswold Law at (858) 481-1300 or rgriswold@griswoldlawsandiego.com.