In the last article on money judgment collection, I provided some information on how a judgment creditor could garnish the wages of the judgment debtor. If the judgment creditor has some knowledge about the debtor's assets, he or she can also potentially levy on a bank account.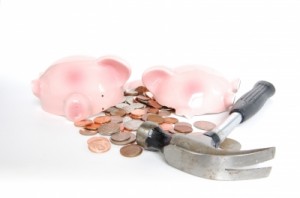 For the bank account levy process, some knowledge about the debtor is required. Some counties in California require bank account numbers, but in San Diego County all you need to provide to the sheriff is the bank name and the branch where the account was opened.
The process of obtaining a bank levy is similar to obtaining wage garnishment. The process involves getting the Writ of Execution filed in the Court and then coordinating with the Sheriff to have the levy order served on the correct bank branch. In some counties, you may need a registered process server to serve the bank with a Notice of Levy. Filing fees for the Court and service fees for the Sheriff will be incurred along the way.
Bank account levies are often a gamble. The judgment creditor doesn't know how much money is in the debtor's bank account, so it's a possibility that only a small amount will be collected (for example, the total judgment could be for $50,000, but there is only $3,000 available in the account to be collected), or nothing at all. The judgment debtor may also try to block collection by filing a Claim of Exemption, or someone else completely could make a third party claim to the funds. Bank account levies involve several entities, including the Court, the bank, and the sheriff's office, so staying informed about whether the funds have been collected, how much has been collected, and where the money is can be difficult since there are so many people involved.
Always consult an attorney with your questions regarding money judgment collection. For more information, please contact Richardson "Red" Griswold of Griswold Law at (858) 481-1300 or rgriswold@griswoldlawsandiego.com.