Partnership Agreements for California Partnerships
In our recent post describing the types of business partnerships that could be formed in California, we mentioned that forming a partnership can be as simple as an oral agreement or a handshake. However, making such informal business agreements is not recommended.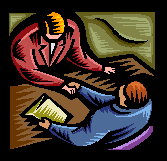 Since partnerships have multiple owners, it is wise for a written agreement to provide guidelines for how the business will run and how the profits will be shared (and of course, how the liabilities will be shared). Partnership agreements are especially important for general partnerships, in which the owners have no liability protection from business debts or judgments (these could arise from lawsuits, contract disputes, unpaid invoices, etc.). General partnerships, who aren't required to file anything with the Secretary of State, definitely should address liability and business control issues in their partnership agreements.
By creating a partnership agreement, the company owners are forced to think ahead and address many issues that could potentially arise. It's wise to plan for varying outcomes, the good along with the bad. We've written about going into business with a friend or family member before, and many of the same considerations apply to forming partnerships. Partnerships are often compared to marriages.
It can be tempting for individuals starting a new company to take shortcuts to save time or costs, but forgoing a partnership agreement should not be one of them. Executing a written agreement before business starts can be a safeguard against potential problems in the future.
For more information regarding starting your own business, please contact Richardson "Red" Griswold of Griswold Law at (858) 481-1300 or rgriswold@griswoldlawsandiego.com.
Griswold Law is always posting articles about concepts and issues involved with running a business. Be sure to check out the complete list of these articles!