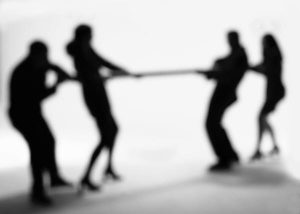 Once an unlawful detainer Complaint has been filed with the Court, the details of the eviction terms are set. The address listed in the Complaint is the only place the Sheriff will conduct a lockout (beware of apartment/unit number errors), and the specific individuals named on the Complaint are the only people the Sheriff will lock out. So what happens if you forget to name a tenant on the eviction paperwork? Or, what if the tenant was allowing other people to live on the property who were never named on the lease? Legally speaking, these "unnamed occupants" have rights.
Once the unlawful detainer lawsuit has been served on the Defendants (the tenants you named on the lawsuit), other occupants could suddenly appear and make a claim for the right to remain in possession of the property. Even if the initial notice or the eviction documents filed in the Court do not include the name of a certain person living in the property, AND even if the person's name is not on the official lease, that person can still make a claim for the right to remain living there. This is a common situation that arises when the tenants have allowed new sub-tenants to move into the property. These unnamed occupants could wait until the day of the actual lockout to make themselves known. The sheriff will then be legally unable to evict a person from the property who was not specifically named on the paperwork. Needless to say, this would be a serious problem and would double the amount of time it takes for the landlord to regain possession of the property. Steps can be taken to compel the unnamed tenants to come forward within a certain period of time after the lawsuit is filed. This involves serving a Prejudgment Claim of Right to Possession form along with the Summons and Complaint (in the specific manner required by law) and filing default paperwork against the unnamed tenants.
In order to avoid the problems described above, always consult with a real estate attorney about your Unlawful Detainer questions. For more information, please contact Richardson "Red" Griswold of Griswold Law.

For further reading on this topic, be sure to check out our full list of articles about unlawful detainers.