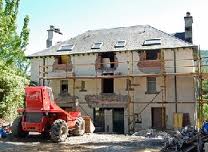 The National Vacant Properties Campaign held its annual conference in Cleveland, Ohio last week. There to explain the positive impact that receiverships can have on vacant/abandoned properties in cities across the nation was Mark Adams of the California Receivership Group. Mr. Adams is a friend and mentor of mine.
As abandoned and dilapidated properties litter neighborhoods during these tough economic times, cities are hard-pressed to seek creative solutions for these eye-sores in their communities. In addition to being unattractive, these properties can also be dangerous. Abandoned properties can have faulty wiring which can lead to fires that can spread to other homes in the vicinity of the distressed property. When squatters enter the property, there are a number of issues that can arise including arson, vandalism and even violent crimes that may directly impact that community.
The health & safety code receivership remedy in California is well suited to aid city governments and their code enforcement departments in tackling these distressed properties and making their communities safer. When notices of violations, fines, and penalties fail to eradicate the situation, a court-appointed receiver is well-equipped to turn up the heat with a hands-on approach, taking into account the interests and rights of all parties involved.
I am commonly appointed by judges to act as a court-appointed receiver over real property under the authority of CA Health & Safety Code section 17980.7. For additional information regarding health & safety code receiverships in San Diego County and throughout the state of California, please contact Richardson Griswold of Griswold Law Receiverships today.
For further reading on this topic, be sure to check out the articles on remedies for dilapidated properties, the benefits of Health & Safety Receiverships, and an overview of the role of Court-Appointed Receivers.